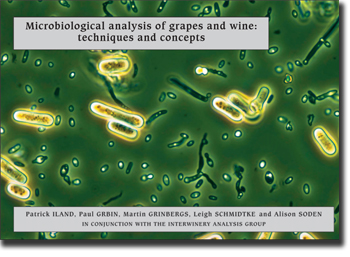 Purchase complete e-book
$90.00 Add to basket
First published 2007
Publisher: PATRICK ILAND WINE PROMOTIONS PTY LTD
Selected chapters can be purchased separately and a hard copy of the complete book is also available.
The information in this, and other sections, complements the material in Australian Winemaking. Australian Winemaking provides a broad overview of the basis for winemaking processes and outlines the techniques necessary for making sound wine, while 'Microbiological analysis of grapes and wine: techniques and concepts' provides the information for conducting many of the microbiological analyses required throughout the winemaking process.
The book provides an introduction to the role of microbiology in winemaking. The step-by-step approach to the techniques and procedures provides an easy guide to the conduct of microbiological practices in the winery and laboratory.
Colour photographs illustrate microbiological techniques and procedures, apparatus and instrumentation. There are 124 matt plastic-coated, colour-coded A4 pages. This book is ideally suited for day-to-day use in the wine microbiology laboratory and winery, as a training resource and as a student text in wine courses.
The authors include academics, laboratory supervisors, and industry personnel with many years experience in teaching and practising in the area of wine microbiology.
Methods and tests include
The role of microbiology in winemaking
Yeast: classification, identification, growth and activity, selection criteria, nutrient requirements, active dried wine yeast, starter cultures, yeast viability, stuck alcoholic fermentation, sulfur dioxide and microbial activity.
Bacteria: types, identification, selection and choice of a bacterial inoculum for malolactic fermentation (MLF), monitoring MLF and stuck MLF.
Sanitation and sterilisation: methods for conducting/ monitoring these operations in the cellar and laboratory.
Sampling: techniques for taking samples for microbiological analyses from tanks, barrels and bottles.
Health and safety issues
Media types and preparation procedures
Techniques and procedures: use of the microscope, laminar flow cabinet and autoclave, aseptic technique, agar plate, slope, dilution series, streak plate, enumeration of microorganisms, spread plate, pour plate, membrane filtration and plating, detection of Dekkera/Brettanomyces yeast, wet mount, Gram stain, use of a haemocytometer, determining yeast cell and bacteria cell numbers, yeast viability, swabbing techniques.
Purchase individual chapters
Authors